The ultimate list of house move packing materials
Cardboard boxes
Bubble wrap
Packing peanuts
Tape
Labels
Moving sheets
Straps
Bins bags
Wipes and cleaning products
People
Car or van
Tools
1. Cardboard boxes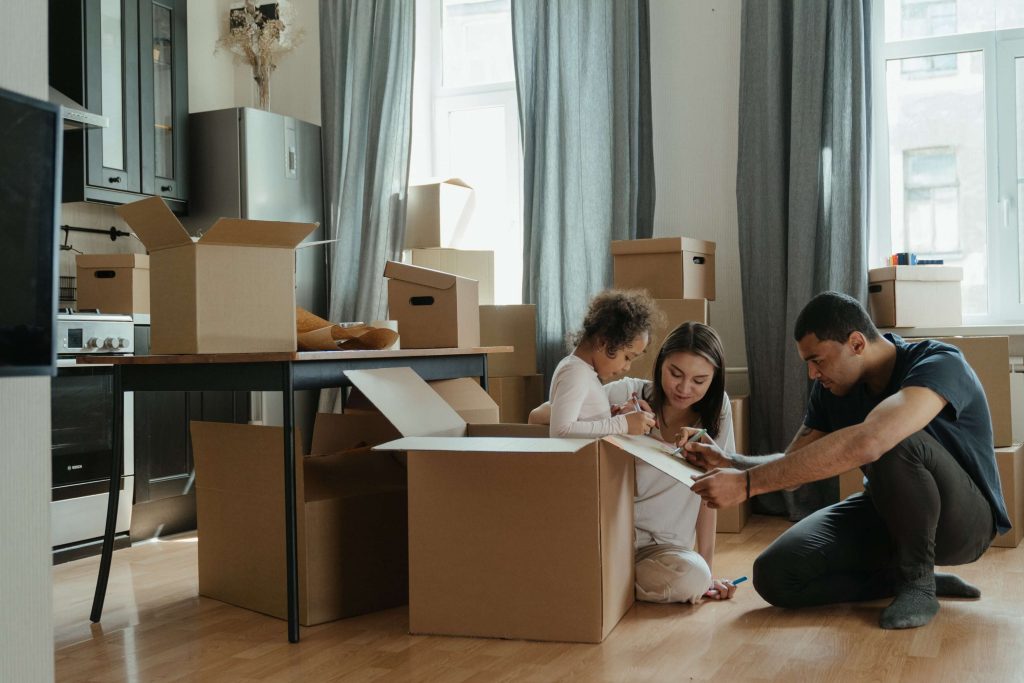 When moving home, packing your belongings into cardboard boxes is standard practice.
Cardboard boxes come in a variety of different shapes, sizes and qualities, so it's important that you pick the right sizes relating to the items you wish to store.
Belongings such as cutlery, glassware, and trinkets are perfect to transport in cardboard boxes. Just make sure to use plenty of protective materials inside the box to keep them secure.
When using Access Box Storage, we deliver cardboard boxes to your door as part of our storage solution, so there's no need to buy any when storing with us.
2. Bubble wrap
'Bubble wrap' is a plastic packaging material that contains many pockets of air. When packaging precious or fragile items, wrapping the items in bubble wrap before putting them into a box will help to stop them from becoming broken or damaged during transit.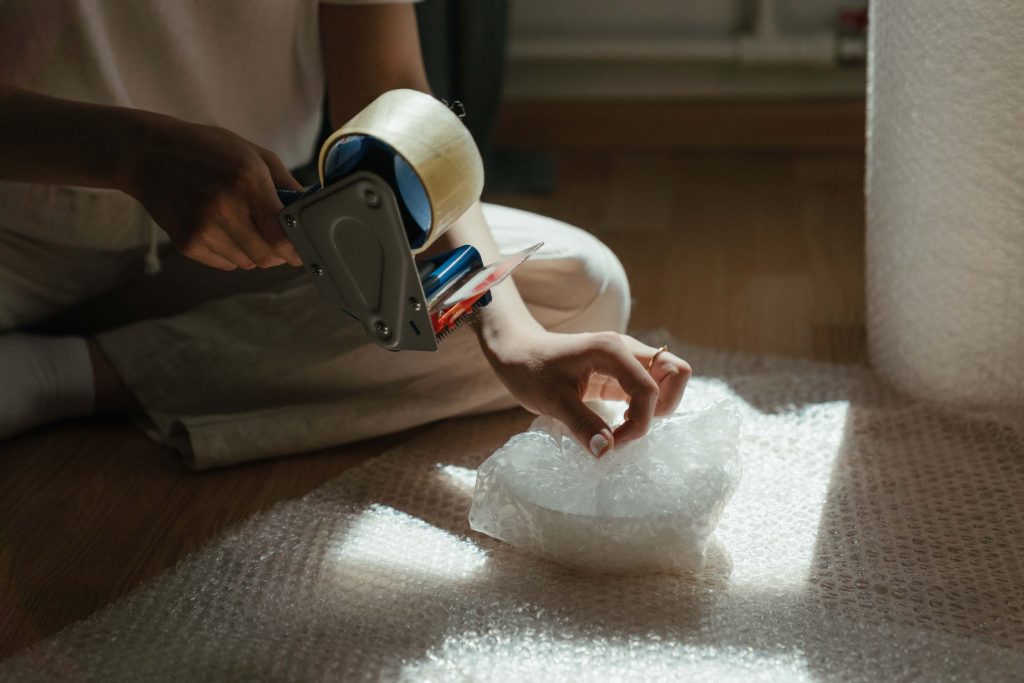 If you're looking for a more environmentally friendly option than plastic bubble wrap, you could think about repurposing old towels, clothing or bedding, which will offer your fragile items similar protection.
3. Packing peanuts
Packing peanuts are another common material used to prevent damage to fragile items during transportation. When placed inside a box alongside your belongings, they compress together to keep items in place and act as a cushion to prevent damage from occurring.
4. Tape
Choosing high-quality packing tape is extremely important when moving house. Ensuring that your boxes are taped up correctly with strong tape will help ensure nothing is damaged during the moving process, and keep your boxes firmly together.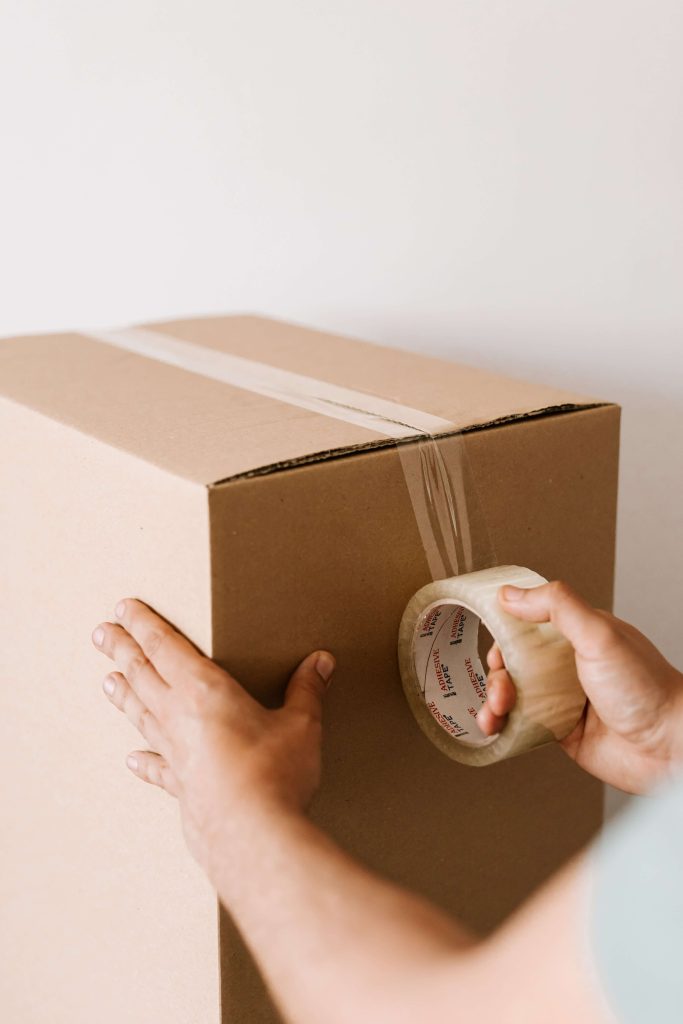 5. Labels
When everything is packaged together inside a box and moved to another location, it can be difficult to remember what's inside it! Especially when you have lots of boxes with your belongings in them.
When you move your boxes to your new property, it's best to put them in the correct room where you'll be unpacking their contents.
If you're not certain what's inside each box, you'll have to open each to discover its contents randomly. This can be frustrating when you've opened a box downstairs that needed opening and unpacking upstairs!
Also, if you've enlisted the help of friends and family to move the boxes, they won't know what's inside each box you've packed.
That's why applying labels to each box you're packaging is extremely beneficial and can save you a lot of time and effort in the future. Consider writing what's inside the box, or the room where you want the contents unpacked on the label to help yourself and others that may be helping you.
6. Moving sheets
It can be risky moving furniture from one location to another, as it's easy for your belongings to get damaged in the process. Large pieces of furniture could also cause damage to your old or new home whilst trying to navigate doorways and other tight spaces.
Moving sheets can be a handy tool to help move things safely, and prevent unwanted damage or accidents when moving into a new property.
7. Moving straps
Moving straps are another packing essential that can be extremely beneficial to the heavier parts of the moving process.
These straps are designed to aid the lifting of heavy furniture such as wardrobes, mattresses and TVs, in order to reduce the physical strain on your body and prevent wear and tear on your belongings.
8. Bins bags
When you're moving out of your original house, it's key to use this opportunity to throw away what you want to bring with you, and what you no longer require.
Sorting through possessions to give away or throw away before you move, means less stuff to move on the big day, and less stuff taking up space in storage.
If you have plenty of bin bags available, you'll be able to easily dispose of what you're ready to part with. And, as well as saving yourself time and effort when moving this excess stuff, you're reducing clutter in your new home, ahead of time.
And, bin bags also make good packing vessels for transporting bulky soft items such as duvets, sheets, and pillows. Just make sure to label them, so you don't mistake them for rubbish!
9. Wipes and cleaning products
Before you move all of your furniture into storage or into a new home, it's a good opportunity to give everything a good clean first. This means all your belongings will be in pristine condition when you move into your new home, and there'll be one less job to do within the stressful house move process.
It's also useful to have wipes and other kinds of cleaning products to hand throughout the moving process incase you need to clean as you go.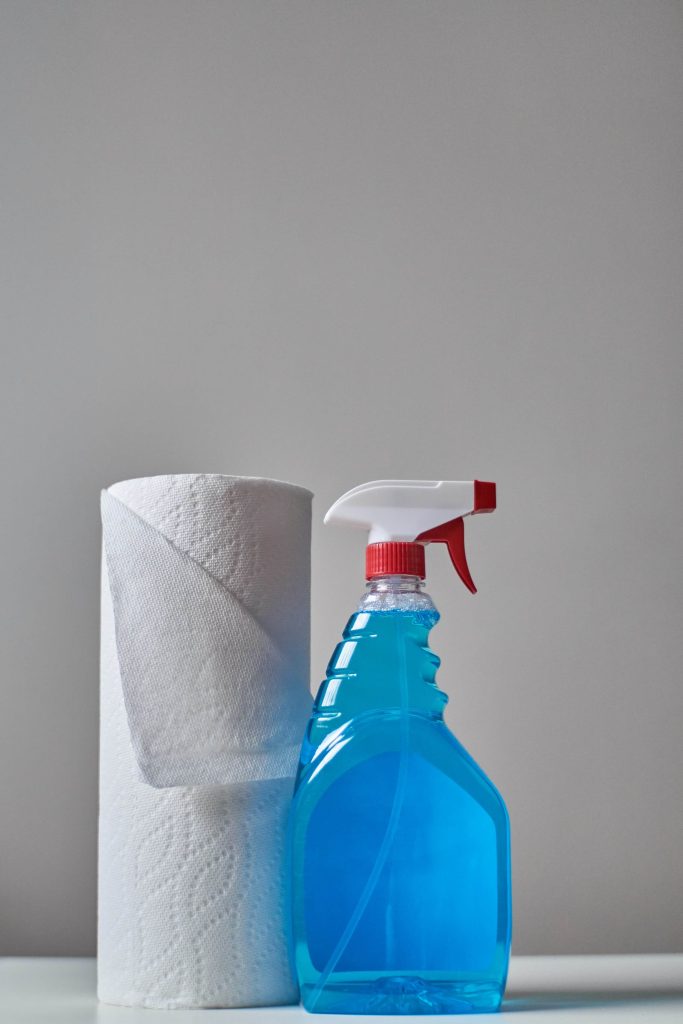 10. People
When you've got heavy furniture to move, boxes to unpack, and cups of tea to be made, there's only so much work you can do alone. The more people you can enlist to help you move, the better!
Despite not being a packing material, people such as your friends, family, or a removal company can be the essential piece in reducing the stress of a house move.
The Access Box storage team can contribute to this effort. Clear boxes out of your old house ahead of time to make cleaning and moving easier. Then, when you're ready for them, we can deliver your boxes straight to your new address, cutting out a significant amount of the heavy lifting.
11. Car or van
Moving your possessions from one place to another can't be achieved without some kind of transportation, such as a car or van.
If you've got larger, heavier items to transport into your new home, then you will need to hire a van or find someone who has a van to help you with the moving process.Or, if you live in London, our box storage solution provides a handy alternative to  hiring a van or a car. If you live in London, we can save you the hassle by collecting boxes of belongings from your old address, and delivering them to your new address.
12. Tools
If you're moving furniture from one place to another, you may need to take down the furniture first before assembling it at the new property. Tools are an essential piece of this puzzle, so make sure you have all the necessities ahead of time to avoid stress on the day.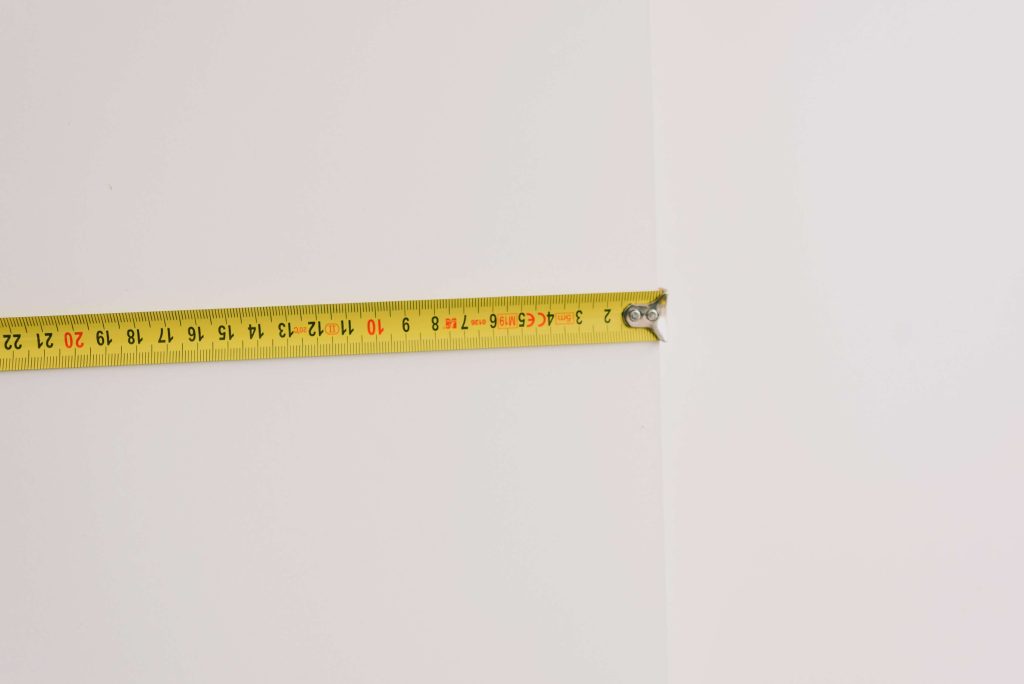 Preparing this ahead of time, will make taking furniture apart and reassembling it as easy as possible.
If you're thinking about storing your furniture in between house moves, check out Access Self Storage for quotes and pricing.
Where do I start when packing to move home?
In addition to prepping your packing materials before moving house, there are some other important things to consider before you just start packing up items without a plan.
Try putting some of these things into practice, to make packing streamlined and stress-free.
Start early
Make sure you start packing your possessions as early as you possibly can. The more time you give yourself, the longer you have to ensure that everything is packed up in time.
Leaving everything until the last minute can be extremely stressful. So, help your future self, and start as soon as you can!
One way you could make a start, ahead of time is using box storage to clear space taken up by unneeded items in your house. For example, if you're moving house in summer, why not clear out any bulky winter clothes and shoes, and have them redelivered to your new address once you're moved in. 
Work through your home room-by-room
Moving through each room one by one is a great way to ensure that you don't miss anything when packing.
By following this strategy, you will ensure that no stone is left unturned, and working methodically through each room in your home will ensure you have a strategy in place.
This also helps make unpacking easier, as you can pack things from each room in the same boxes, and use the labels you prepared earlier to help you keep tabs on what needs to go where. That way you can keep kitchen items in the kitchen, bathroom bits in the bathroom and bedroom belongings in the bedroom.
What should you not pack when moving?
There are several items that you should avoid packing when moving home.
Firstly, anything that you don't need any more; don't move it to your new house! There is no better time to sort through what you need and don't need, than when you're packing to move home.
With the items that you no longer require, you can throw them away if they have no further use, sell them, or donate them to a charity shop.
Secondly, remember to be wary of packing dangerous items when moving house. This may be self-explanatory, however, it's worth mentioning that items such as fertilizer, fireworks, or charcoal must be moved separately and not in the van or car with your furniture and boxes.
What is the hardest room to pack when moving?
This depends on the size of each room you currently have and the number of items you have in each room, but there are a few rooms that stand out to us as the most difficult to pack.
The kitchen can be difficult because it contains many breakables such as plates, glassware and cups, which all take a while to pack properly in order to make sure they're safely wrapped up.
Another room which is notoriously difficult to pack is your garage or shed. This is because a lot of the equipment you store in your garage or shed can be heavy, dangerous or difficult to manoeuvre. Garages are also well-known hotspots for clutter, so it may take longer than you realise to go through every item and decide whether to keep them or not.
Use box storage to help you move home
If you're moving out and need somewhere to store your stuff, enquire today about our helpful box storage service.
Box storage is a good solution because it's a cost-effective, convenient and flexible solution if you don't have anywhere to store your belongings before moving into a new home.
In no time at all, you can order the boxes you require, then we'll collect your items and take them to our secure storage facility and deliver your boxes to your new home when you request them.
If you have enough belongings to fill a few cardboard boxes, box storage can be a cheaper and more convenient option than hiring out a storage unit.
Another advantage of using a box storage company is that if you don't have access to a car, moving things on public transport can be difficult, time-consuming, and expensive. You need peace of mind that your belongings are being taken care of and moved to the right place. With box storage, you can request your items to be delivered to your new address to take the stress out of planning to move your belongings.
Head over to our FAQ for more information, and enquire today to order your boxes, and get started with the packing process.