A lot is said for festival outfits and whether you go for cute (but easily leak-able) wellies or the reliable Hunters - but what do you actually need to pack for festival season?
Forget glitter kits and toe rings, we're talking the best tent to stop you sleeping in a puddle of mud two days deep into the festival and the neatest gadgets for making sure you get your beauty sleep.
We've put together your go-to shopping list of everything you need to save the day when you're face-down, hungover in the middle of a field at 3am on a Sunday morning!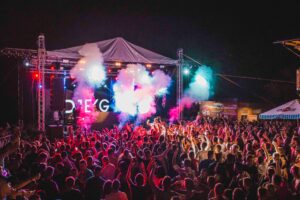 A bin bag
The pillar of all good festival survival kits. The trusty bin bag can act as a poncho for the rain, a pillow to rest your sleepy (and drunken) head, and a place to sit while you wait for your favourite act of the day to finally emerge from their dressing room.
Baby wipes
Need a shower? Run out of loo roll? Fancy cleaning last night's mud off your favourite boots? Want to get rid of the glitter that's been stuck to your eyelid since 9am on Friday? Baby wipes are the festival-goer's answer to any sticky situation.
Earplugs
If you're looking to actually get some kip during the long summer festival nights, earplugs are an absolute must-have. Block out all the late night noise and avoid those ridiculous neighbours that wake the whole campsite at 8am blasting music from their portable speaker.
Vitamins
5HTP is a natural serotonin booster which is known to help with sleep and hangovers. Berocca is also a staple with serial festival-goers. Head to Holland & Barrett or Boots, and prep your body for the inevitable rollercoaster ride that is the festival all-weekender.
Portable phone charger
We all know that stomach-churning feeling that consumes your entire being when your phone dies, and imagine losing touch with the outside world 500-people deep into a festival crowd. No thanks. Make sure to invest in a decent phone charger that you can keep on you at all times.
Sandwich bags
Small, sealable plastic bags can keep your electronics dry, act as a safe haven for your favourite jewellery, and stop you from losing or dropping your precious morning-after-breakfast cash stash. They'll possibly…literally, save your life.
Water bottle
Staying hydrated during hours of wild dancing, drinking and sweating is imperative. It's no fun missing the headline act because you've passed out from dehydration… embarrassing too. Avoid all mishaps by bringing bottled water with you, and carrying a refillable water bottle to keep on you at all times.
Snacks
Unfortunately, festival food is neither the most nutritious nor cheap. Plan ahead by stuffing plenty of granola bars, nuts, crisps and some dried fruit in your rucksack. They'll be perfect for a late-night nibble and your saviour when morning comes around.
Tent fortification
Investing in a decent tent is critical, particularly if you're hopping around from festival to festival this summer. However, it's also good to be prepared with some extra support. Spare guide ropes, pegs, and even a small bit of tarp can stop your safe haven from turning into a muddy sink-hole.
Dungarees
Imagine: endless amounts of pockets for drunkenly stashing your phone and cash, ample space underneath for light layers or a rain coat, the flexibility of rolling up the legs to catch sun or tucking them into your wellies to stay warm, the dirtier they get the cooler you look, and SUPER comfortable. Need I say more?
So if you're off to a festival start getting prepared, and when it's all over and you're looking for where to store all the things you bought then consider storing with Access Box Storage, where we collect, store and deliver back! Get started!