Once all the excitement of Halloween is over, the thought of taking down all your decorations and storing costumes, wigs, and accessories needed for large events could be tiresome. You need a plan.
Using box storage is a great way to keep everything organised and ensures that your Halloween decor stays in good condition until next year.
To help you prepare your Halloween storage, we've put together some tips and tricks for you to follow.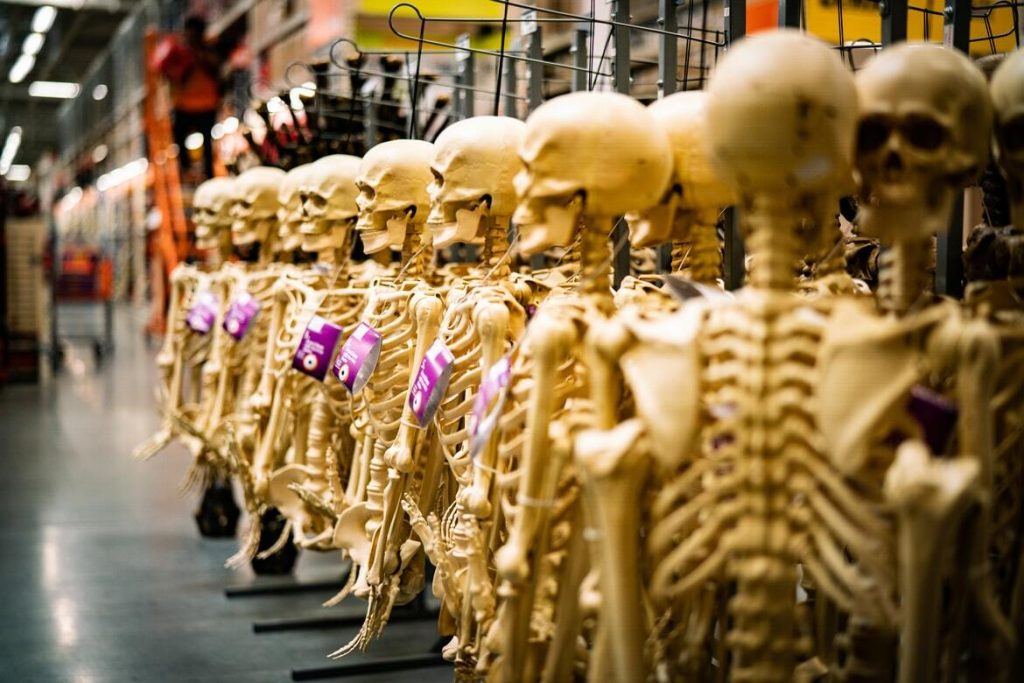 1. Get Sorting
The thought of sorting your Halloween decor may seem daunting, particularly if you have a large event space or shop. But the best way to begin sorting is actually to start whilst your decorations are still in use. Make a note of everything you'd like to store and what requires to be thrown away or donated. That way, when it's time to take them down, you already have a clear idea of the items you require to prioritise.
Once you have done this, you can start sorting your items into groups, whether that be according to a theme, location, or type. Have a think about how you want to find your items when it's time to decorate this time next year.
When your items are grouped together, you'll want to decide how many boxes and how much packing material you'll need. Access Box Storage provides free cardboard boxes for you to use for your Halloween storage, and we also provide packing materials at the checkout.
Then, it's time to start packing!
2. Store Your Halloween Costumes
There can be so many components to an adult Halloween costume, including clothing,
headgear, masks, capes, and canes, that it makes sense to store it properly to be recycled
for another year.
Before storing, we recommend cleaning everything first. Whether that's machine washing or
hand washing your costumes and wiping down your headgear and masks. Let it all dry out to
prevent any moisture from getting into the cardboard boxes.
You can choose to put your fabric costumes in garment bags or wrap in tissue paper for
extra protection, and then store them in our cardboard boxes. For accessories like headgear
and masks, you can wrap them in bubble wrap first and then store them in a separate box
from your costumes.
3. Store Your Halloween Wigs
If your Halloween storage includes a wig, the first thing to do is wash it straight after you have worn it. Typically, it's recommended to wash a wig every 10 times you wear it. But if you're planning to wear it once and store it for the rest of the year, it's better to clean it, so it'll be as fresh as possible for next Halloween.
When washing your wig, make sure you only use specific products made for synthetic or human hair wigs, which can be found at wig stores or bought online.
Once it's washed, place the wig on a towel on a flat surface to dry out. This is better than blow-drying as this can damage the fibres and stretch the cap.
Once it's dry, detangle the wig using a comb and then fold the wig from ear to ear and place it in a hairnet before storing it in your cardboard box.
4. Store Your Halloween Decorations
Some Halloween decorations are fragile or made of glass. Some are electronic and have lights or speakers, and others are strung on cords or strings. All of these need to be taken into account when packing.
If you have the original boxes, we recommend putting the decorations in there first and then packing them in our cardboard boxes. However, if you don't, be sure to use bubble wrap or tissue paper to protect these items before packing them.
5. Label Everything
Once everything is stored in your cardboard boxes, it's a good idea to label everything in your Halloween storage. This is so when Halloween rolls around next year, you'll be able to let us know which boxes you'd like to be delivered back to you. As well as making your life easier knowing what is in which box.
Use Access Box for your Halloween Storage
So, if you're ready to start storing your Halloween storage with Access Box, the process is very simple and most importantly affordable at £7.50 per box. 
Firstly, type in your postcode to check that you are located within our London service area, and then select how many boxes you need to store your Halloween decor and how long for. As well as these free boxes, you can choose if you require any packing materials sent to you.
Then, select a date and time that is convenient for you for your boxes to be delivered, so you can get on with packing. We will then come and collect your storage boxes and take them to our safe and secure storage facility.
Taking down your Halloween decor and saying goodbye to the spooky season for another year may be sad, but at least you can rest easy knowing that Access Box Storage has everything ready for you next year. You can simply log into your online account and book a return date - it's that simple!