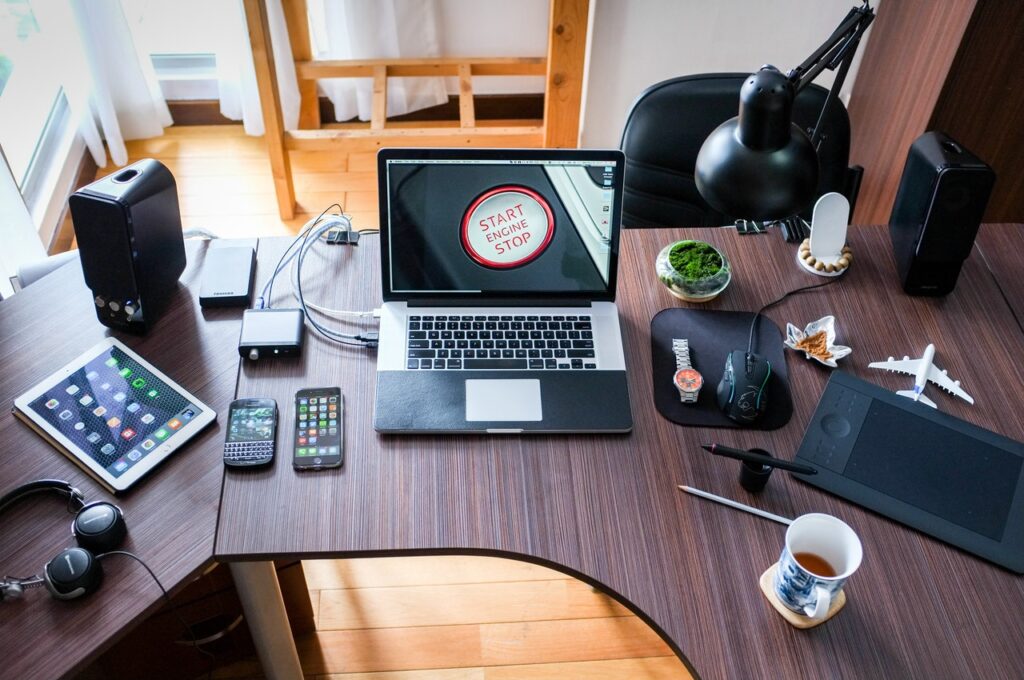 Storing your electronics temporarily can be a good idea, especially if you're renovating your city home or getting away for a while.
We don't want to sound like we don't trust people, but leaving gadgets and electronics unprotected could make them not just disappear but also - get damaged.
If you're leaving the city for a while, your appartment could get broken into, especially if you live in an unsafe part of London.
When you find yourself in those scenarios, it's much safer to store your gadgets in storage.

Before you do so, read a few tips on how to store electronic devices properly.
Can you put electronics in storage?
The first question you may have is: Can you put electronics in storage? The answer to this is yes, you certainly can!
However, before placing any type of electronic device in a storage unit, you must prepare them carefully to ensure that they stay protected while stored.
Having a climate-controlled environment is crucial in storing electronic devices as the wrong temperature, and humidity levels can damage your possessions (a shed or a garage aren't a good choice).
First, electronics must not get mixed with water, so your storage unit must have controlled humidity levels to prevent moisture from seeping into your devices. Second, the storage facility must not be too hot or cold and must maintain optimum temperature levels of about 50 to 80 degrees throughout.
If you have old electronics laying around and not being used, the best thing you can do is recycle them. However, if you still plan to use them, but not for the time being, it will be useful to keep them in a storage unit while they are not in use.
How to store electronics in storage?
Preparing your devices for storage is important to keep them intact and in good condition, especially if you plan to keep them in storage for a long time.
Clean your electronics
Like how you would prepare any other item for storage, start by cleaning all your electronics thoroughly, use a cloth to wipe off any dust, making sure to reach the crevices and circuit. Doing this will not only help keep your electronics clean but also give you an idea of their current condition, so you know if there is any damage to them once you inspect your storage unit.

Disassemble and take out batteries
Removing your electronics' batteries is important if you will not be using them for some time to prevent leaking and preserve the battery. If there is anything else you can dismantle from the device, make sure to do so and organize all the components together, so nothing is lost while in storage.
Whether it be electronic parts, cords, wires or other things, make sure you take inventory of everything you have for each device. This way, you can easily determine if anything goes missing after checking your storage unit.

Pack in original boxes


Once your electronics are ready, pack them in their original boxes, if possible. The original packaging is most ideal since your device will fit perfectly into it and often has anti-static material to prevent the device from breaking while in transit. If you no longer have them, you can pack them in a similar-sized box and wrap it with bubble wrap and other packaging materials.

Do electronics go bad in storage?
A common question that many people may have is: Do electronics go bad in storage? Say, you have an old television lying around in your apartment, and you want to store it temporarily for some time.
You might be wondering: Is it safe to store a TV in a storage unit? Electronic devices tend to be significant investments, so naturally, you may be concerned about what will happen to them when kept in a storage unit for a longer time.
Fortunately, if you choose a reliable storage company that has the proper facility and prepare your electronics carefully, you can rest assured that your devices will stay safe in storage.
For example, with Box Storage, the process is straightforward and easy. All you have to do is type in your postcode, and you will get an overview of the rates based on the number of boxes, length of storage, and add-ons like protection plans.
Once you're done filling out your booking details, then these will be picked up from your home on your specified date and time. Your items will all be stored in a secure facility with 24/7 monitoring to ensure safety.
Should you need to get your things back at any time, you can easily schedule a return date through your online account.
Whether you need a few or all of your boxes back, you can specify these and have your items delivered back to you in no time!