Saatchi Gallery
There are many things to do in Chelsea and one of the musts for any art lovers is to visit the Saatchi Gallery. Opened in 1985 by Charles Saatchi to exhibit his art collection with the gallery shows having distinguishable phases. It started off with US artists and minimalism then moved on to Britart led by Damien Hirst. This was followed by shows of purely paintings then a return to contemporary art. The gallery exhibits pieces of contemporary art created by young artists and international artists whose work has rarely or never been displayed in the UK.
The gallery has visitor numbers that exceed 1.5 million per annum making it a popular spot and hosts educational trips for schools, there is also a bookshop and a café in the gallery. It has had an influence on art in Britain since its inception and has had its fair share of controversy in the media which it has used to promote the gallery, if you are after some thought provoking art that was created by the next big artist then go take a stroll around this spectacular 70,000 sq. feet exhibition space in Duke of York square.

Cadagon Hall
If you are a fan of music then one of things to do in Chelsea is to go to Cadagon Hall, as this 950 seat venue hosts over 300 concerts and events a year and is situated only 2 minutes away from Sloane Square tube station. The building is Grade II listed which was completed in 1907 which was originally a New Christian Science church. The superb acoustics means the hall is usually the top choice for orchestras and is home to the Royal Philharmonic as well as it being a popular destination for international touring orchestras. The world renowned BBC Proms chamber music series is hosted in the hall along with a selection of contemporary, jazz and world music with debates and conferences held in the hall too.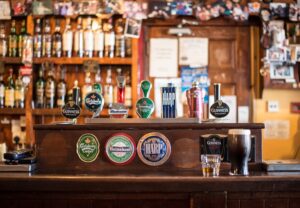 Chelsea Potter
The Chelsea Potter is located on the once trendiest street in the world, the Kings Road, it is a traditional English pub that was once a regular haunt for stars such as Jimi Hendrix and the Rolling Stones. There is a wide range of ales on offer and traditional pub grub that will surely prove popular with those who like traditional pubs and after traipsing around the Saatchi gallery, having your mind thoroughly stimulated by an office chair on top a fridge, you will likely need a pint to relax after all that cultural stimulation.
Blue Plaque Hunting
One of the things to do in Chelsea for all the history buffs is to go "blue plaque hunting", as Chelsea has been home to many famous individuals such as Dame Agatha Christie, Sir Alexander Fleming and Isambard Kingdom Brunel. 153 Cromwell Road, the family home and second studio of Alfred Hitchcock may interest film lovers to see where the "Master of Suspense" once lived and worked. A great number of literary figures have lived in Chelsea that include George Eliot, Samuel L Clements, 'Mark Twain' and Bram Stoker, so for any fans of literature this is a walkabout that will allow them to delve back into the past and see where some of their favourite authors once lived and worked.

Shopping on the King's Road
The once most famous street in the world still has something to offer and it being Chelsea it of course has a range of shops that offers a wide selection of merchandise that will satisfy shoppers. As it's Chelsea the shops will be a bit pricey but there are some outlet stores that may appeal to some, so a browse around the shops on King's Road is a nice way to spend an afternoon.
The King's Walk Mall is a shopping centre that has an array of cafés and restaurants that you can grab a bite or coffee in after having a mooch around the stores. This is the best option for shoppers who want to be able to look at the various stores whilst never being too far away from a latte after the exhaustive browsing, this is one of the many interesting things to do in Chelsea.
The Royal Court Theatre
Known as the "Writers' theatre" the Royal Court Theatre was opened in 1870 and acquired by the English Stage Company in 1956. The theatre was Grade II listed in 1972 and has a capacity of 350 seats in the theatre downstairs and 85 in the upper theatre. The theatre puts on a variety of plays with the Rocky Horror Show being premiered there in 1973 and numerous recognised actors having graced its stages such as Laurence Olivier, Matt Smith and Felicity Jones. It has also been the platform for the start of successful careers for many well-known writers, so if you are a theatre lover or want to see if there is something to your liking then pay a visit to the Royal Court and see what's on.

Chelsea Physic Garden
Chelsea Physic Garden is the oldest botanic garden in London with around 5,000 different medicinal, herbal and edible plants. It was established as the Apothecaries' Garden in 1673 by the Worship Society of Apothecaries to grow plants to be used in medicine. It is Grade I listed on the Register of Historic Parks and Gardens of Special Historic Interest in England and sits on four acres. If you want a place to unwind after a long day of experiencing Chelsea or want to get away from the hustle and bustle of Chelsea then this tranquil garden is the place for you.
To make space for all the purchases made on Kings Road, why not store some of your older items with Access Box Storage?