The Boaters Inn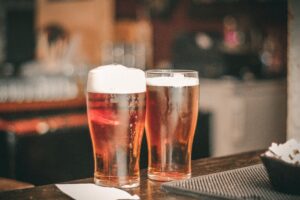 Boaters is a gastropub that is situated on the Thames hence the name and is only a 10 minute walk away from central Kingston. They have a 65 seat riverside dining area that is opposite the bar and there is a smaller dining area in the garden. They also have a riverside beer garden where you can have a nice, refreshing pint as it backs directly onto the park and take in the scenic views. Boaters has a wide selection of real ale from microbreweries, both local and national with their food menu being seasonal so you will have a varied selection to choose from and they of course offer a traditional Sunday roast. Boaters also boasts being the home of the longest running weekly free music night. in London They are also family-friendly as they offer games, colouring books, a children's menu and are dog-friendly. If you are in the area and feeling a bit peckish or parched, then drop in to Boaters for some great grub and a pleasant pint.
Rose Theatre
One of the many things to do in Kingston is to visit the Rose Theatre, which opened in 2008 on Kingston High Street and has a capacity of just under 900 seats that was founded by Sir Peter Hall. The theatre is modelled on the original Elizabethan Rose Theatre situated on London's bankside. It officially opened to Chekhov's Uncle Vanya with Sir Peter Hall directing. The productions the theatre puts on were predominantly written here in the UK such as Love's Labour's Lost, A Christmas Carol and A Midsummer Night's Dream. The Rose works with distinguished theatre companies such as the Royal Shakespeare Company, Shakespeare's Globe and Playhouse to put on the best productions. For any theatregoers this will be a top choice for things to do in Kingston.

Kingston Ancient Market
Kingston upon Thames has been home to a lively market for 800 years as the earliest records show with the market still going strong today. The market has more than 20 permanent stalls that are open 7 days a week which have the traditional market stalls that you would expect such as a fishmongers, greengrocers and butchers along with exciting street food. They host events such as music events and vintage markets throughout the year so there are plenty of things that will appeal to everyone.
Kingston Museum
If you are interested in the history of Kingston or simply history in general, then one of the things to do in Kingston is to visit Kingston Museum as it exhibits the history of the borough from Saxon times. Fans of photography would also enjoy a trip here as there is a gallery dedicated to the work of a former resident, photographer Eadweard Muybridge. There are three permanent exhibitions that you can look through which are Ancient Origins, Eadweard Muybridge and Town of King and there are also up to 6 temporary exhibits a year on display on the first floor gallery. They also have activities for kids so a day out with the family would be enjoyable. There is also a gift shop where you can purchase a memento of your experience at Kingston museum.
Old London Road Shopping

There are many things to do in Kingston and one of the things is to go shopping on Old London Road, as there are a broad range of shops such as a vintage clothing shop and an antiques shop that will have hidden gems waiting to be found. The entrance to Old London Road is hard to miss as there is an arch that reads 'Old London Road Shopping' with a modern art installation by David Mach just behind the sign called 'Out of Order', which are 12 red telephone boxes falling down like dominoes. You can browse through all the different shops as there are lots of bargains to be found from vinyl records to unique items from charity shops, a shopping trip on Old London Road will not disappoint.
Why not make room for your purchases from Old London Road by storing old belongings with Access Box Storage?