There is something magical about ice skating during the festive season. Christmas lights twinkling, the sweet smell of mulled wine in the air and of course the adrenaline rush when you manage to do lap after lap without falling on your face!
Not sure where the best places to hang out are this December? Our Xmas ice skating London list has some great suggestions.
Here is where you can skate this Christmas: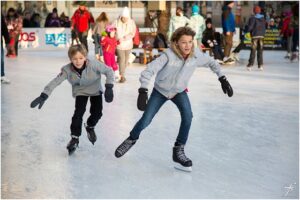 1. Natural History Museum
Take in the impressive Natural History Museum whilst skating at this South Kensington ice rink. Surrounded by festively lit Christmas trees, this ice rink will get you in the Xmas mood. What's more, once you're done skating you can warm up at the rink side café for a sip of mulled wine and some festive snacks. This ice skating rink will be open until 7th January 2019, giving you plenty of time to visit.
2. Hampton Court Palace
Feel like royalty as you skate around the Hampton Court Palace ice rink with Henry VIII's historic home making for a spectacular backdrop. While it will certainly be fun during the day, the best time to go is at night, as you'll get to enjoy the atmospherically lit Tudor façade.
If you're looking for stuff to do before the sun goes down, you can make a day of it and explore the palace and its grounds. This ice rink is open until 7th January 2019, so you have no excuse not to swing by!
3. Tower of London
For history with a modern twist make sure to stop by the Tower of London ice rink this festive season. Set against the dramatic backdrop of one of the city's top historical landmarks and offering great views of the Thames, this ice rink is one of the best London has to offer, which is why we simply had to include it in our Xmas ice skating London list.
What's more, you won't only be skating next to the Tower of London, but actually in its dry moat! And if that's not impressive enough, snowflake lights against the castle wall add extra ambience if you go after dark. You can skate at this rink until the 5nd of January 2019 – so what are you waiting for?
4. Canary Wharf
Even bankers love to skate at Xmas – which is probably why the Canary Wharf ice rink is so popular! Located in London's renowned business district you'll get a chance to see some of London's most prestigious offices in a different light.
This ice rink also has a roof, which means you can go for a spin whatever the weather. This year they also have a dedicated children's rink, a skate path through the trees, ice skating lessons, plus ice hockey and curling tournaments.
As an added benefit, this rink is open later than most (it only closes at 10:45 on Fridays and 10:30 on Saturdays and Sundays) and has the potential to be quieter on the weekends than some of the other ice skating spots on this list. This ice rink stays open until 24th February, so you can even go for a whirl when you've returned to work in the new year!
5. Somerset House
The Somerset House rink is one of London's most renowned ice skating venues featuring a 40 foot high Christmas tree!
You can skate to your heart's content at this rink whenever you feel like it, as they offer both day and evening sessions. Some nights they even have top DJs pumping out tunes to add to the party atmosphere.
If you get hungry from all your exercise grab a bite at one of the Alpine food stands courtesy of Fortnum & Mason. This rink will be open until 14th January 2019, giving you plenty of time to skate by.
When it comes to ice skating in London you're definitely spoilt for choice. If you're thinking about getting your own set of skates to make it even more amazing, but you're worried about where to put them when the festive season is over, we've got you covered. With our box storage service, they'll be kept safe and ready for you to use again next Christmas.