Store with us for £6.90 per box per month. Businesses who store longer can save up to 20%
If you're looking for cheap box storage in London, Access Box Storage can help you out with short-term and long-term contracts.
Need more storage for your business?
Running a small business or shop can have its challenges, especially when it comes to storing stock, paperwork or parts.
Where can you put your seasonal stock without taking up valuable shop floor space? Is your office the best place to safely store those paper records?
If you need a secure business storage service that collects and stores your goods, paperwork or parts until you need them back, then box storage may just be the right solution for you.
How does this business storage service work?
At Access Box Storage, we'll collect and safely store your stock, paperwork or parts. We provide free storage boxes, delivered to your door. You simply pack the boxes and choose a convenient collection date. We will collect and store your boxes. When you need your boxes back, just let us know, and we'll deliver them to you.
Our storage is a budget-friendly way to expand your business space. The price? 1-5 months of storage costs £6.90 per box per month: for this quality of service, it can't get any cheaper. Pay upfront and store for 6 months to get a 10% discount, 9 months for 15% and 12 months for 20% discount off the standard storage price for boxes and other larger items.
If you're still in doubt, find more details about how it works or enter your postcode to see the cost.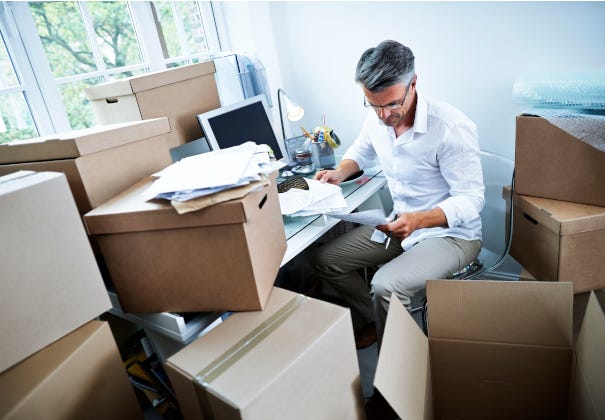 ---
4 easy steps to business storage in London
If you're in need of business storage services, simply type in your postcode in our search bar to check whether you're within our London area. Then, select how many boxes you need to store your business supplies and for how long.
1. Pack up your stuff
Pack your stock, office supplies, paperwork or parts that you don't need immediate access to. We recommend using bubble wrap and secure packing tape to secure your items and the box.
2. We collect your items
Our courier team will provide you with a 4-hour collection time slot for your business storage items to be picked up on the date you've selected. We'll then take your storage boxes and larger items to our secure storage facility in London. Please note that we only collect from and deliver to the ground floor.
3. We store
No need to worry if your spare stock, paperwork or parts will be safe. Our team has 20 years of experience and the safety of your items is our priority. Our purpose-built London storage facility is kept safe and monitored 24/7 CCTV and secured by a fenced perimeter and fire detection systems.
4. We return
Whenever you need your business supplies back, you can simply log into your online account and book a return date. We charge a flat fee of £29.00 per return order. It's super easy and convenient for you as you can request the return delivery of as many of your storage boxes as you need at any given time, right to your door. You focus on running your business, while we do the rest.
What kind of business items can you place in storage?
With your personalised commercial storage, you will gain a flexible service tailored to your needs. We know how unpredictable changes require careful management of resources, finances, and time. With Business storage London you'll be able to store your merchandise, seasonal stock, equipment, as well as documents and archive material that you won't need on a daily basis.
Just consider if their size and weight make it possible for one person only to lift them: if they are packable and foldable, then we'll be able to collect them easily.
Who can use business box storage?
Businesses that use representative samples and stock

Companies that use seasonal shop or installation displays

Businesses that need to store documents and archive material

Companies that are downsizing their offices

Any trader who needs safer storage for their valuable items
Why do businesses choose Access Box Storage?
Businesses need to constantly adjust to demands that are often unpredictable, making flexibility paramount. Business storage London gives you personalised storage solutions which can be implemented immediately, for an extremely reasonable price.
Every business owner knows that time and space means money. You need to keep your store and office at the best of their performance while keeping them looking professional and tidy.
Our business storage offering
Free storage boxes (current special offer)

Free courier collection

We come to your workplace

We store boxes and larger items that don't fit in a box

Packaging can be bought from us

Secure storage with 24/7 CCTV

We will deliver your items back when you need them

We can deliver back one or many boxes

We service businesses in London
We're more than box storage
Access is one of the UK's largest and fastest-growing self storage companies. We pride ourselves on the friendly, expert service that we offer to all of our customers for more than 20 years.
If we don't offer box storage in your area or you have larger business storage needs, then we have 60 Access Self Storage stores around the country that can offer great business deals.
We also offer business services like flexible space, records management, mailbox rental and vehicle storage.