How do I get my boxes returned to me?
To book a date for your boxes / larger items to be returned, simply log in to your account here: https://www.accessboxstorage.com/customer/account/login.
Then navigate to:
1. 'My Orders'
2. Select the order you'd like returned
3. Click the blue 'Return order' button
You can now schedule one or many of your boxes to be returned to you by choosing a return date and checking that your return address is correct.
Your boxes will be returned to the ground floor of your building.
What size are the boxes that you provide?
The boxes we provide to you free of charge (current offer) are 51cm x 41cm x 31cm. The maximum weight when packed must not exceed 25kg.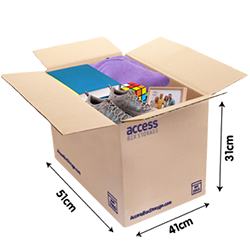 If you need extra boxes, please contact us.
How can I check my empty box or returned items delivery time slot?
How do I raise a query about the delivery driver of my empty boxes or returned items?
Do you sell packaging materials?
Yes, we sell a broad range of packing materials, including bubble wrap and tape. These can be bought during your online ordering process.
Can I take out different levels of Safeguard Protection on different boxes?
No, when you buy additional Safeguard Protection the amount bought is applied to all boxes that you store with us. Access Box Storage will give you £100 Safeguard Protection per box for but if your belongings are worth more than £100, you can increase the level of protection to £150 for as little as 50p per box a month. If you want even more protection, we also offer £250 Safeguard Protection for 90p per box a month.
VIEW MORE FAQ'S
Further help? If you still need further help and need to contact us, please send an email to info@accessboxstorage.com or call us between 10am and 5pm on 020 3866 4448.